MEM30319 Certificate III in Engineering - Fabrication Trade
CRICOS Course Code: 108265M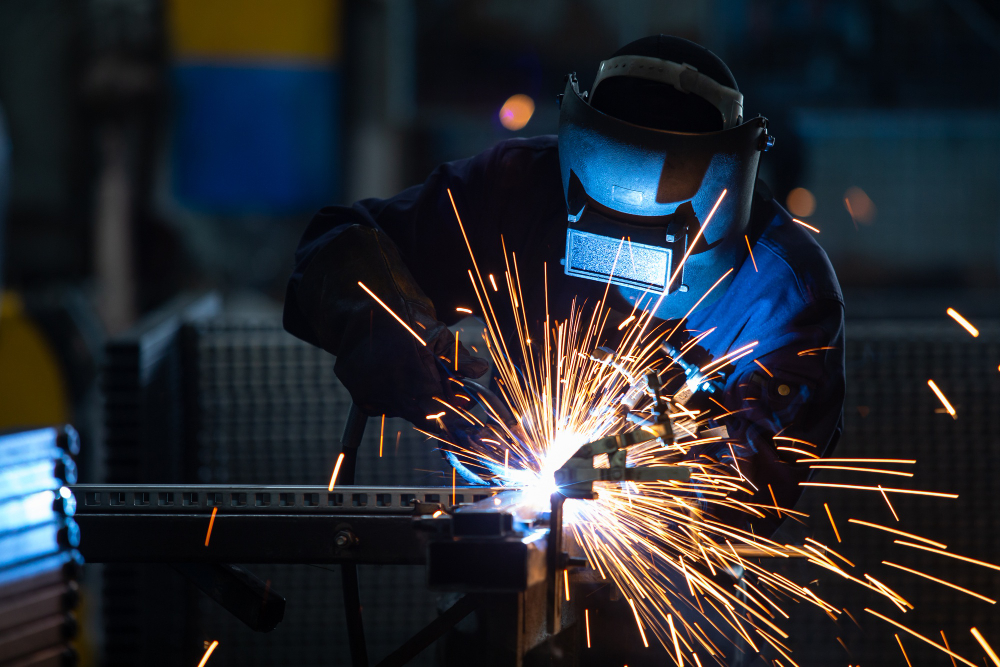 Course Description
This qualification defines the skills and knowledge required of an engineering tradesperson - fabrication within metal, engineering, manufacturing and associated industries. The skills associated with this qualification are intended to apply to a wide range of fabrication work, including undertaking metal fabrication, structural steel erection, sheet metal work, welding, blacksmithing and surface finishing. This qualification is designed to provide an industry recognised skills profile related to trade work as an Engineering Tradesperson - Fabrication.
Entry Requirements
There are No entry requirements specified in the Training Package for this course
All students must be 18 years of a qualification.
Students must have completed High School (or equivalent)
There are no requirements for previous work experience for entry into this course.
All students must register their USI
The students must have good computer skills (including WORD, EXCEL, PowerPoint and Internet to search for information)
All students must complete the Pre Training Review
English Language Proficiency
This course is delivered and accessed in English. The students must have LLN (Language, Literacy and Numeracy) Skills for the level of course.
Students must provide current (test date less than 2 years) and valid prood of english language proficiency by any of the following tests:

IELTS (International English language testing system) minimum overall score 5.5
PTE (Pearson Test of English) minimum overall score 42
TOEFL iBT (Test of English as a Foreign Language – Internet based test) minimum overall score 50
C1 Advanced (formerly Cambridge English – Advanced CAE) minimum overall score 162
OET (Occupational English Test)minimum overall score 350
The student can be exempt from English proficiency conditionby providing evidence any of the following:
They are a citizen of United Kingdom, United States of America, Canada, New Zealand, Republic of Ireland.
They have completed minimum 5 years of study in Australia, Canada, New Zealand, South Africa, Republic of Ireland.
They have completed (within the past 2 years) in Australia in English – requirements for senior secondary certification of education.
They have completed (within the past 2 years) in Australia in English – substantial component of AQF Level 4 or higher on a student visa
Course Duration
---
This qualification is expected to be completed in 62 weeks.
This will include:
30 weeks of face-to-face training and assessment spread over three (3) study periods of 10 weeks each,
22 weeks (440 hours) of mandatory work placement component and
10 weeks of total study break period interspersed between study periods.
Course Location
---
Address: Level 1, 29 James Street, Pakenham VIC 3810
Melbourne Campus Level 4, 20 Queen Street, Melbourne VIC 3000
Mode of Study:
The mode of delivery for this qualification will be Face-to-face classroom sessions, practical training and assessment in a purpose-built workshop and workplace practice via a mandatory work placement.
Packing Rules
To be awarded the MEM30319 Certificate III in Engineering – Fabrication Trade, units of competency to the value of 96 points must be achieved,
All core units of competency (totalling 33 points)
Elective units of competency for a generic fabrication trade qualification - minimum value of 40 points from Group A
Elective units of competency to a maximum value of 23 points from Group H to bring the total value to 96 points.
training.gov.au/Training/Details/MEM30319
Course Fees
---
For updated course fee structure, kindly contact State Institute of Training.
Please Note:
The above fees does not include the cost of living in Australia.
SIT does NOT provide any VET [Vocational Education and Training] FEE-HELP, government- funded subsidy or other financial support arrangements.
SIT reserves the right to change the fees over the duration of this course.
Accommodation and Cost of Living in Australia
The average living costs in Australia is an important part of student's financial preparation. The Study in Australia website provides detailed information regarding different Accommodation options and other living costs. These costs are an approximate guide and don't take into account individual budget and spending habits. Please visit https://www.studyinaustralia.gov.au/english/live-in- australia/living-costs
The Department of Home Affairs has financial requirements applicants must meet in order to receive a student visa for Australia. The Home Affairs website covers in more detail how to work out how much money you might need to cover the costs of your stay in Australia as international student.
The 12-month living costs are;
For students or guardians - AUD$21,041
For partners coming with you - AUD$7,362
For a child coming with you - AUD$3,152
Delivery Methods
All structured activities are scheduled for 20 hours per week. Participants will complete theoretical and practical training in classroom and in a simulated environment in a purpose-built workshop, followed by work placement which will allow students to learn and demonstrate performance evidence in a functioning workspace.
SIT will use a range of techniques during face-to-face delivery including trainer presentations and demonstrations, individual tasks, case studies, research, role plays, practical demonstrations, and group work. Practical sessions and demonstrations will be conducted in the purpose-built workshop.
Work Based Training
All students will undertake 440 hours of work placement over 22 weeks at 20 hours per week. Work placement will be organised by SIT; however, students will have the option to complete a placement at their own workplace or look for other placement options. All external host employers will need to be approved by SIT and a work placement agreement will be signed by SIT, Host employer and the student before commencement.
Self Study
Students will be required to complete a list of additional self-study activities in their own time to complement the formal learning they are doing as part of their studies. A Self Study Guide with a list of activities will be provided to students for every unit of competency. These learning activities form a formal part of the training and are mandatory.
SIT campus has well equipped training rooms where delivery and assessment of this course will occur.
SIT will provide Simulated work environment and related business documentation for this course.
Students will have access to a well-equipped computer lab.
Students will be provided current and contextualised Learning resources
Recognition of Prior Learning and Credit Transfer
Prior to enrolment SIT will determine any prior learning of each student with regard to their existing skills, knowledge and experience that the studentmay have acquired through formal (credit transfer), non-formal and informal learning related to Units of Competency in this qualification, in order to determine the amount of training SITwill provide to each student. If RPL or Credit Transfer is granted, this may result in a shorter course duration for this qualification. For further details, please refer to the policy on our website, www.sit.vic.edu.au(*see the note on last page)
Language, Literacy and Numeracy (LLN) Assessment
Prior to course commencement, enrolled students will be required to undertake a Language, Literacy and Numeracy (LLN) Assessment designed for Cert IV level, so that SIT can determine whether students need LLN support during their studies
USI – Unique Student Identifier
All new or continuing SIT students undertaking nationally recognised training, need a USI in order to receive their Qualification or Statement of Attainment. For Further information: https://www.usi.gov.au/
SIT meets the requirements of the Student Identifier scheme. SIT will not issue AQF certification documentation to a student without being in receipt of a verified Student Identifier for that student, unless an exemption applies under the Student Identifiers Act 2014. For further details, please refer to the policy on our website, www.sit.vic.edu.au(*see the note on last page)
Student Support Services
SIT offers a range of Student Support Services to helpthe overseas students in adjusting to study and life in Australia.Students will be provided with an age and culturally appropriate Orientation Program which will provide them with information about the services available to ease their transition into life and study in Australia and to assist them as needed. This provision of support services to students is as an integral part of training services provided by SIT. These support services will be provided at no additional cost to the student. For further details, please refer to the policy on our website, www.sit.vic.edu.au(*see the note on last page)
Course Progress Monitoring Strategy
Students are required to maintain satisfactory course progress. SIT will monitor the course progress to ensure that students are able to complete their course within the expected duration specified in the COE. SIT will implement its risk intervention strategy if required. For further details, please refer to the policy on our website, www.sit.vic.edu.au(*see the note on last page)
Refunds and Fees Protection
SIT's Refund Policy and Procedure provides relevant information regarding refund conditions including:
a) Refund terms and conditions
b) the student's rights as a consumer, including but not limited to a statutory cooling-off period of 10 business days.
For further details, please refer to the policy on our website, www.sit.vic.edu.au
Tuition Protection Scheme
Protection of Fees paid in advance – In case of provider default, TPS ensures that international students are able to either
Complete their studies in another course or with another education provider or
Receive a refund of their unspent tuition fees.
For more information on TPS, please visit https://tps.gov.au/Home
Deferment, Suspension and Cancellation of study
Student Initiated Deferrals
Students may be able to temporarily defer the commencement of their studies or suspend their enrolment after commencement on the grounds of compassionate or compelling circumstances.
Provider Initiated Suspension or Cancellation -
SIT may suspend or cancel a student enrolment including but not limited to, breach of Enrolment Agreement and visa conditions.
SIT will inform the student in writing about the intention to suspend or cancel the student enrolment and the reason for doing so. The student will be given a notice of intention to report and 20 working days to access SIT's internal complaints and appeals process.
For further details, please refer to the policy on our website, www.sit.vic.edu.au(*see the note on last page)
Complaints and Appeals
Students can choose to appeal any decision made by SIT in accordance with the Complaints and Appeals Policy and Procedures. The Complaints and Appeals Policy and related procedure is available at our website, www.sit.vic.edu.au(*see the note on last page)
International students can make a complaint to the Overseas Student Ombudsman (www.oso.gov.au) if they are not satisfied with SIT's internal complaints and appeals process. The availability of complaints and appeals processes, does not remove the right of the student to take action under Australian Consumer Law.
Issuance of Certification
SITwill issue AQF [Australian Qualifications Framework] certification documentation only to a student whom it has assessed as meeting the requirements of the training product as specified in the relevant training package. AQF certification documentation will be issued within 30 calendar days of course completion, provided all agreed fees the student owes to SIT have been paid. For further details, please refer to the policy on our website, www.sit.vic.edu.au(*see the note on last page)
Pathways from this qualification
After completing this course, students can apply for BSB50820 Diploma of Project Management at SIT.
Application Procedure and further information
Apply directly to SITon our website, www.sit.vic.edu.au(*see the note on last page)
Contact Details:
Email - info@sit.vic.edu.au
Phone – 0411025745
In person - Level 1, 29 James Street, Pakenham VIC 3810
Further Information:
SIT does not use any 3rd party arrangements for delivery and assessment of this course.
There are no work placement arrangements for this course.
SIT does not guarantee that a student will obtain a particular employment outcome after completing this course.
SIT does not promise any possible migration outcomes fromundertaking thiscourse, or guarantee successful education assessment outcomes.